ABS (Acrylonitrile Butadiene Styrene) High Impact is a versatile polymer for different sectors.
The most important characteristic of ABS is its great toughness, even at low temperature (remaining tough even at -40ºC). It is hard and rigid, and in this case high impact, in turn, it has acceptable chemical resistance, low water absorption, good dimensional stability, high resistance to temperature and abrasion, and can be easily coated with a metal layer.
In one of its variants, ABS can be chromed by electrolysis, giving it different metal baths to which it is receptive.
Uses of
ABS | High Impact
Lids
Boxes
Shells
Capsules
Gutters
Connectors
Characteristics
Recyclable Vs Reusable

Black
Gray
White
Natural
In our plastic recycling plant we have the machinery and capacity to produce ABS | High Impact in different colors and with different characteristics of flow and impact and / or loads.
Packaging (for other measurements and weight consult)
Octabin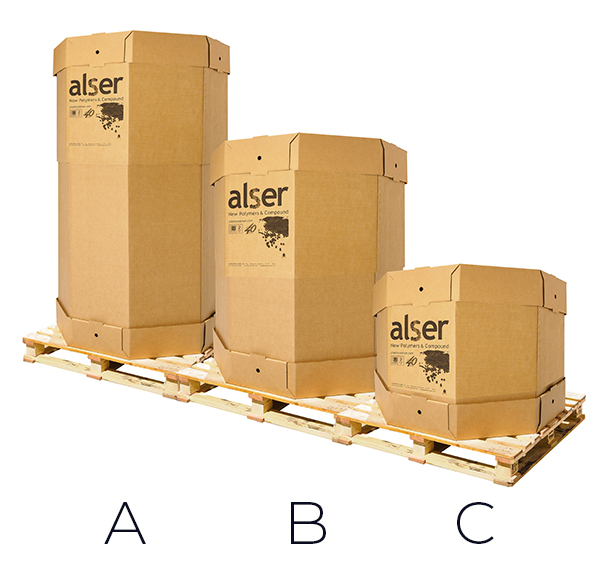 | | | | | |
| --- | --- | --- | --- | --- |
| | Weight Kg | High m. | Width m. | Deep |
| A | 1.000 | 2,30 | 1,20 | 1,20 |
| B | 800 | 1,85 | 1,20 | 1,20 |
| C | 500 | 1,60 | 1,20 | 1,20 |
Big Bag
| | | | | |
| --- | --- | --- | --- | --- |
| | Weight Kg | High m. | Width m. | Deep |
| A | 1.100 | 2,00 | 1,20 | 1,20 |
| B | 800 | 1,70 | 1,20 | 1,20 |
| C | 500 | 1,50 | 1,20 | 1,20 |
Tanker truck