ABS (Acrylonitrile Butadiene Styrene) Medium Impact is a versatile polymer for different sectors. The most important characteristic of ABS is its great toughness, even at low temperature (remaining tough even at -40ºC). As well as its hardness and rigidity, it has acceptable chemical resistance, low water absorption, good dimensional stability, high resistance to temperature and abrasion, and can be easily coated with a metal layer.
In one of its variants, ABS can be chromed by electrolysis, giving it different metal baths to which it is receptive.
Uses of
ABS | Medium Impact
Lids
Boxes
Shells
Capsules
Gutters
Connectors
Characteristics
Recyclable Vs Reusable

Black
Gray
White
Natural
In our plastic recycling plant we have the machinery and capacity to produce ABS | Medium Impact in different colors and with different characteristics of flow and impact and / or loads.
Packaging (for other measurements and weight consult)
Octabin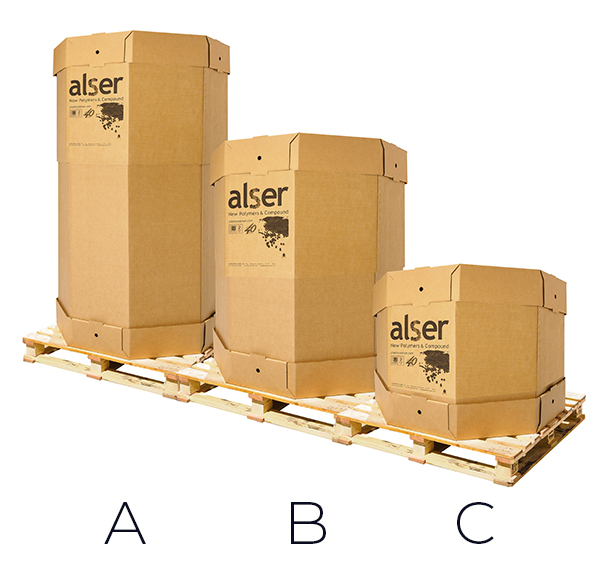 | | | | | |
| --- | --- | --- | --- | --- |
| | Weight Kg | High m. | Width m. | Deep |
| A | 1.000 | 2,30 | 1,20 | 1,20 |
| B | 800 | 1,85 | 1,20 | 1,20 |
| C | 500 | 1,60 | 1,20 | 1,20 |
Big Bag
| | | | | |
| --- | --- | --- | --- | --- |
| | Weight Kg | High m. | Width m. | Deep |
| A | 1.100 | 2,00 | 1,20 | 1,20 |
| B | 800 | 1,70 | 1,20 | 1,20 |
| C | 500 | 1,50 | 1,20 | 1,20 |
Tanker truck