SAN | High Resistance Recycled Plastic
SAN (Styrene Acrylic-Nitrile) is a co-polymer of Styrene and Acrylonitrile, belonging to the family of plastics. More specifically, to styrene polymers (of which the best known is polystyrene).
It is a thermoplastic polymer composed of repetitive styrene and acrylonitrile units. The SAN co-polymer generally contains 70-80% styrene and 20-30% acrylonitrile. It is designated SAN (Styrene Acrylonitrile).
This combination of monomers provides greater resistance, rigidity and chemical resistance than polystyrene. Styrene Acrylonitrile can be blended with other polymers, such as PC or Polyurethane Thermoplastic.
Uses of
SAN | High Resistance Recycled Plastic
Characteristics
Recyclable Vs Reusable

Transparent
Transparent
In our plastic recycling plant we have the machinery and capacity to produce SAN | High Resistance Recycled Plastic in different colors and with different characteristics of flow and impact and / or loads.
Packaging (for other measurements and weight consult)
Octabin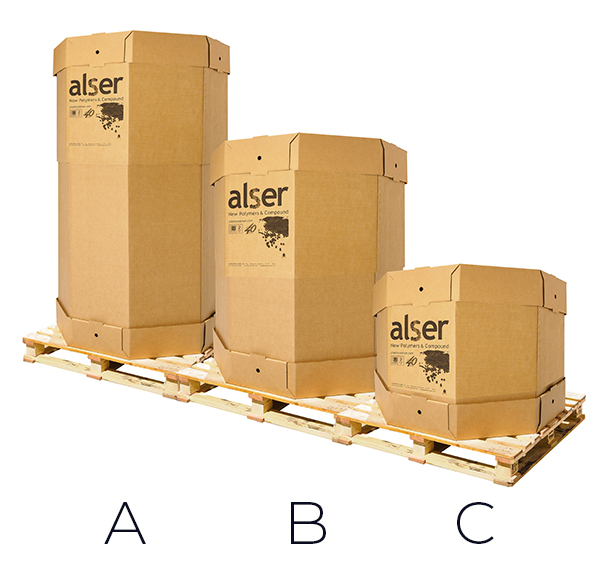 | | | | | |
| --- | --- | --- | --- | --- |
| | Weight Kg | High m. | Width m. | Deep |
| A | 1.000 | 2,30 | 1,20 | 1,20 |
| B | 800 | 1,85 | 1,20 | 1,20 |
| C | 500 | 1,60 | 1,20 | 1,20 |
Big Bag
| | | | | |
| --- | --- | --- | --- | --- |
| | Weight Kg | High m. | Width m. | Deep |
| A | 1.100 | 2,00 | 1,20 | 1,20 |
| B | 800 | 1,70 | 1,20 | 1,20 |
| C | 500 | 1,50 | 1,20 | 1,20 |
Tanker truck